When is pick up and drop off?
Drop off is 7am-9am. Pick up is 5pm-6pm. We can accommodate early pickups, but not early drop offs. We can accommodate early pickups but not late drop offs. Pups come the same day each week with the doors locked between 9am and 5pm so they can rule the space without disruption!
Daycare: $45/day *
*Billed at the beginning of the month for all enrolled days
​
Enrichment Group: $90/day
​
Puppy Socials: $25/session
​
Baths: $20 *offered exclusively to daycare attendees at Alberta location*
What vaccinations do you require?
All dogs must be up to date on Rabies, DHPP, and Bordetella.
​
It is highly recommended to also be current on Lepto and Canine Influenza.
​
​
Does my dog need to be spayed or neutered?
All dogs in Daycare and Enrichment Group need to be spayed or neutered. We cannot make any exceptions to this rule.
​
Dogs in Puppy Socials do not have to be spayed or neutered.
How experienced are the team members?
At Mother Pupper, we understand that it all comes down to well trained, fairly compensated, and long term staff members. Majority of our staff come to us with dog industry experience. Our training period consists of weeks of shadowing the trainer to ensure proper dog handling and management techniques. Continued education takes place monthly at staff meetings and all of our staff hold a regular M-F schedule so they are able to ensure stable and long lasting relationships with your dogs. We are happy to say that majority of our staff members stay with us for years and are truly dedicated to developing the best environment possible for your dog.
We work very hard to maintain a safe, healthy, clean and fun environment for everyone. To ensure the safety of your dog, other dogs, our guests and passers-by, and to maintain our business standing in this neighborhood, we do have a few rules we need to keep to.
Daycare hours are 7:00 AM-6:00 PM. Drop off time is between 7:00 AM and 9:00 AM. No dogs will be accepted after 9:00 AM. Pick up begins at 5:00 PM and there are no pick ups before then unless previously arranged, you can arrange an early pick up by calling, emailing, or letting us know at drop off that morning. The doors are locked between 9:00 AM and 5:00 PM. A late fee of $15 will be applied to all pick-ups after 6:00 PM with an additional fee of $1 every minute after 6:15 PM.
Reservation cancellations or reschedules must be made by scheduling software 24 hours in advance of reservation. Pre-paid visits can be rescheduled to a different daycare day within the same month availability permitting. No-shows or late cancellations will be charged for a full day.
No refunds, no exceptions.
Dogs must arrive and leave on leash. The only place your dog should be off leash is in the play space and/or in the leashing + unleashing corral. Please follow all leash laws when walking in or out of our building. To prevent dog's mouths from getting caught in collars or other accessories while playing, all collars and accessories are removed at drop off time. If you wish to keep on an accessory that is important to your pets health, such as a sweater when it is cold, inform the attendant at drop off. We do our best to prevent dogs from damaging worn items in play, however, there is always a risk for items used on the play floor to return in worse condition than they arrived in. While heavily supervised, staff may utilize slip leads or haltis on dogs in our care to help guide them through the daycare experience.
All dogs must be in good health, physically sound and adequately protected from diseases. Dogs must not be wearing bandages, have open wounds, or stitches. Dogs that have been ill with a communicable disease within 30 days will require a veterinarian's approval before returning. Up to date vaccination records must be kept on record at all times. Dogs with signs of respiratory illness will be sent home.
How to upload vaccination records to your account.
All dogs must be on a regular maintenance program. If you suspect a flea outbreak, keep your dog home until they are free and clear of fleas and eggs. Please do not apply topical treatments within 48 hours of a daycare visit.
We are in a residential neighborhood. Your dog will need to be kept as quiet as possible upon arriving and departing the daycare facility. You dog may be asked to un-enroll if regular persistent barking becomes an issue throughout the day.
All dogs in enrollment are kept to a regular weekly schedule. This allows predictability and keeps our facility less of a revolving door! In order to continue to offer this weekly-based service, we have instilled a monthly tuition system that is similar to preschool tuition.
Cards must be kept on file and up to date at all times.
​
All clients will pre-pay for their dogs' regular days at the beginning of the month. The exact number of visits billed will be determined by how many regular days you dogs has and how many of each of those days occur in that given month. If closure is scheduled, that day will not be charged.
ex. If your dog is scheduled for Mondays and Thursdays then you will be charged for every Monday and Thursday within the month, every month.
​
Cards will be billed for the upcoming months visits. The exact number of visits billed will be determined by how many regular days you dogs has and how many of each of those days occur in that given month. If closure is scheduled, that day will not be charged.
We do not host drop in's, bi-weekly visits, pay-per-days, or short term enrollment.
Cancelation of tuition, must happen no less than 7 days before the billing day. To pause or cancel monthly tuition is to unenroll from our daycare.

You can reschedule a potential missed day within the same month it was paid for. These credits do not roll over to the next month nor will be refunded if not rescheduled.
While having your dogs vaccinated is a necessary prevention, there is no guarantee that your dog will not be exposed to something that is contagious when it is social with other dogs, including at daycare (just like childcare for human kids!). We do everything we can to protect your dog from exposure to disease, by daily disinfecting all water bowls, toys, crates, and contact areas in the playrooms, which include the floor, play structures, walls, and outdoor area.
Two of the most common forms of virus in social canines are Papilloma (warts of the mouth) and Bordetella, more commonly known as kennel cough.
Papilloma: This is a viral infection that is commonly found among young dogs (although even older dogs are susceptible) and has an incubation period of 4 to 8 weeks, but may last longer. Once the dog has recovered, they are usually immune for life (similar to chicken pox).
Bordetella: This is usually seen as a dry persistent (hacking) cough. It can be caused by a number of different strains and, like a human flu shot, there is no guarantee your dog will not contract it from another dog. Bordetella (kennel cough) vaccine needs to be administered yearly in order for it to be as effective as possible in preventing outbreaks.
We ask that you inspect your dog before each visit, and if you dog shows any of these symptoms (a persistent, dry cough or bump(s) on or around their mouth) DO NOT bring them into daycare that day. Rather, make an appointment with your vet immediately and please let us know.
We cannot accept any dog that show any signs of the conditions listed here. We will send a dog home immediately if we discover any signs of these conditions. Although these are not serious conditions in most cases, they are highly contagious and we must keep the health and welfare of all the dogs in our care in mind. We appreciate your cooperation in helping us maintain a safe and healthy environment for each and every dog.
Clients can download the free mobile app by searching for "Gingr for Pet Parents" in the Apple App Store or Google Play Store. Our facility invite code is 819977.
Book Reservations & Services on Desktop
Step 1: Navigate to the customer portal for your facility. From the Home menu, select your pet(s) and then choose Start Booking.
Step 2: Choose a booking type, date(s), and any service add-ons.
Step 3: Add any applicable notes, review an estimate if desired, and then click Submit.
Upload Vaccination Records
Upload Vaccination Records on Desktop
Step 1: Log in to the customer portal for your facility. Navigate to the Account menu, or scroll down on the home page and select the paw print Account button. Next select the up-arrow cloud icon Upload Records.

Step 2: On the Upload Records page, you can choose one of two options. Drag & drop the PDF/image onto the up-arrow cloud icon, click/tap on the up-arrow cloud icon and manually select your computer file.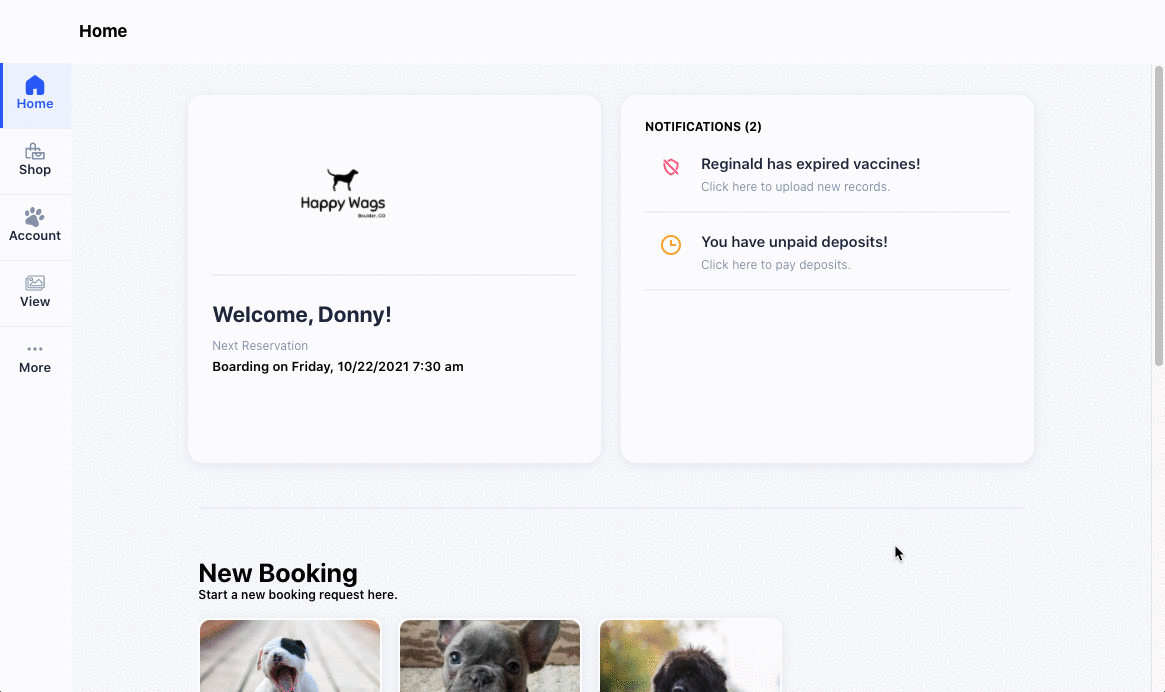 Adding a Card on File on Desktop
Step 1: Navigate to the Customer Portal page for your facility » Edit My Account »
Step 2: Scroll down, add card information
Step 3: Click the Use This Card Button
Step 4: Press Save!